Visionsofjesuschrist.com
A list library of the miraculous

A luminous silhouette -- an angel?
Allegedly appeared in a photograph during an Orthodox Mass at the Church of the Holy Sepulchre in Jerusalem (Christ's tomb) during an American pilgrimage on October 24, 1993. There are no statues in this part of the church, and according to one pilgrim who sent us this picture (and who we know well as a credible person), no one was standing in the vicinity. - (Spirit Daily) online newspaper.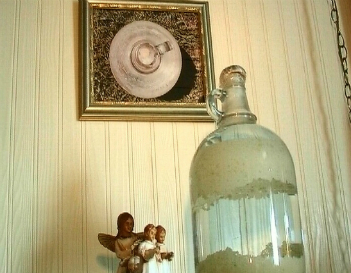 Water blessed by Our Lord for the sick
Above image is a jug of water blessed by Our Lord for the sick at Rhoda Wise (Mystic, Stigmatic) home. Also a Host that miraculously appeared and floated down to the bottom is still there for over 47 years. (View) updates on this story.