Image of woman praying appeared in old photo at Shrine dedicated to beatified Indian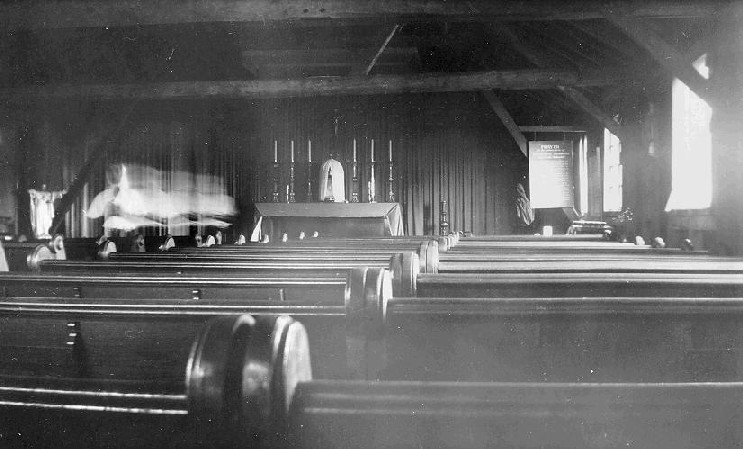 Reported in [Spirit Daily.com] online newspaper. Above is a photo that was taken in a chapel at the National Shrine of Kateri Tekakwitha in Fonda, New York. At the left is the ghost-like image of what appears to be a woman praying. It shows her from the waist up. Some think it is Kateri herself, others a nun or devout woman. It was found in a vault at the shrine and dates to 1952. It was sent to us from a follower of Kateri's.
Was it a simple case of double exposure? It startled whoever took it enough to hand it over to the priests, who put it away for safe-keeping. While we don't have the photographic expertise to declare it as supernatural, we submit it for your review. At one time, we're told, the photo was circulated within the Franciscan Order. At Medjugorje it was said that the souls of the departed are occasionally allowed to manifest in order to remind us of their existence (and, often, their need for prayers, especially Christmas Day). That might be the case here, or it might be photographic time-exposure, or for all we know it's Kateri. She was the 17-century Mohawk woman who converted to Catholicism and had a deep devotion to Mary. Healings have also been claimed at the shrine, which reopens next May. The cures often seemed connected to a spring there.
Vist the National Shrine of Kateri Tekakwitha [website].