The miraculous Volto Santo or Holy Face Crucifix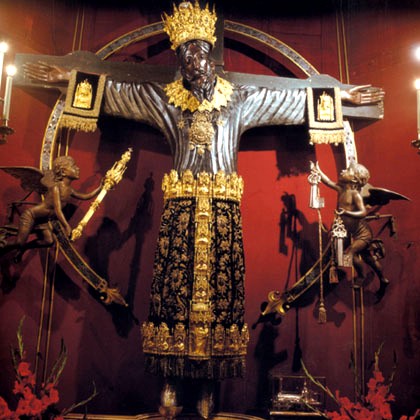 From Miraculous Images of Our Lord, by Joan Carroll Cruz,
published by TAN Books and Publishers (1993) Used with permission.
The miraculous Crucifix called the Volto Santo or "Holy Face" is one of Lucca's greatest treasures. It is displayed in the famous Cathedral of St. Martin. The face is a perfect replica of that impressed on Veronica's veil. That is why it is called the "Crucifix of the Holy Face," or simply, the "Holy Face." Ancient tradition attributes the making of this remarkable crucifix to Nicodemus (Jesus' confidant). Whether Nicodemus asked God for a supernatural light to help him model the sacred features of the One his soul loved, or whether an angel helped in its completion is not known.
The crucifix after being buried for seven centuries miraculously came to the Italian shores in an unmanned boat. It was then drawn in a cart by two untamed bulls to Lucca. The "Lucchese" (the people of Lucca) at the time of the republic elected the Crucifix as their King. The imprint of the Holy Face was on their coins and seals. It has historically been an object of pilgrimage that vast numbers of people including Pontiffs have visited. When St. Catherine of Siena visited the Holy Face to bend her knee and adore, the Crucifix (Our Lord) spoke to her. Learn more about these events [here] and [here].