The Virgin who cries in Apostles, Argentina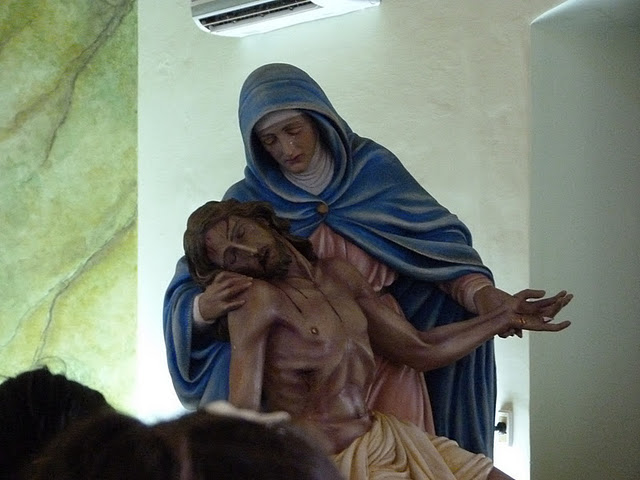 Pilgrims visit Our Sorrowful Mother at Church.
Translated from Spanish. See video about the event [here]. News report [here]. Hundreds of faithfuls from Sunday December 11, 2011 visit the church San Pedro and San Pablo, in the locality of Apostles, (province of Argentina Missions), to observe the image of the Painful Mother who cries from past Sunday. Hundreds of faithfuls approached the Bust of the Image located in the locality of apostles, to venerate as tears of the eyes of the Virgin fall, the last time saw that it cry was last night after the misa of the 22:00 hours that were realised in the parish of this locality.
"This meaning something to Us" agrees those that visit the place. The image at issue is a virgin who maintains between her arms to a dying and bleeding Jesus Christ. This phenomenon happened from the past Sunday caused, that the church where it is "east miracle" reorganized as far as schedules of misas and prayer of the rosary, so that all the interested can approach.
The parish priest of the Humberto place Lopez, invited the Christians to contemplate the message that is interpreted with this transcendental fact that calls to the reflection in the days of Christmas. The faithfuls arrive from incessant way at the Church that is located in center of the city and leave visibly shocked after being witness than today they call "miracle".