Oil oozed from statue brought home from Medjugorje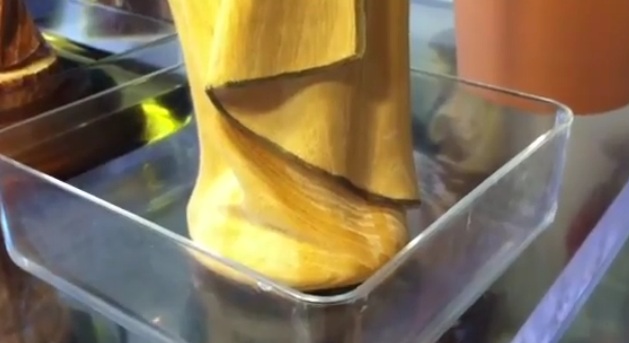 Above Images from this [video].
June 27, 2012 I am a Catholic priest and this is a wooden statue which my friends got for me on pilgrimage to Medjugorje, for my feast day. Three months ago, I took it to the home of a Chaldean visionary, Bushra, in Bloomfield Hills, Mi, where all of the paintings and sculptures there were already weeping oil. My statue bled more than 350 liters of oil, which according to technical analysis, is the purest of organic oils. The plant is of an unknown origin. One of our parishioners was immediately heeled after being anointed with this oil. Yesterday morning, a beautiful light began to shine forth from this statue. The faces of both, the Virgin Mary and Baby Jesus began to leak oil in the form of tears. According to the Chaldean calendar, this happened on the feast of Our Lady of Perpetual Help.