Statue of Mother Mary that spoke to Renato Baron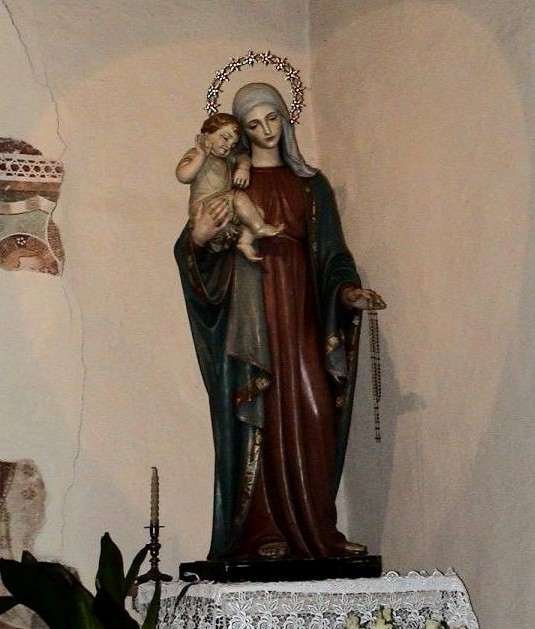 How the apparitions began
On 25 March l985 Renato Baron had gone to the little church of St Martin to perform some tasks. He then paused to pray, kneeling in a pew in front of the statue of Our Lady of the Rosary. "Suddenly", he recalls, "I felt as if my body was dying and my soul was fainting... I could no longer see or hear anything around me... The statue of Our Lady began to speak and move: it came alive for me. Her clothing seemed to move with her and she was smiling. Her eyes were most beautiful.
She said:
'I expected you to come yesterday. From now on you will always come here, because I have to speak to you about so many things. Afterwards, you will write these things down. But for the moment you must wait. Come back tomorrow and you will hear more'".
When the apparition was over, Renato was so bewildered that he ran away, even forgetting to lock the church. Next day he returned to the church in order to close the door, but first he felt impelled to pray a little. This is what Renato relates:
"I knelt in front of the statue and began to pray. I read from the Scriptures and prolonged my prayers, so as to continue my dialogue with God, hoping that there would not be a repeat of what had happened to me the day before... so that I would not see the same things. Quite frankly, I was afraid. However, Mary did return. Once again, I felt as if I was dying, as if my spirit was leaving my body. All the time, the voice was repeating:
'It is I, Mary, I, the Madonna, really speaking to you. Take what I tell you seriously, and from now on you must write down everything that I say. I shall prepare you... One day you will speak, but meanwhile you must wait, you must prepare your spirit, because we shall be treading the path of faith. I shall prepare friends for you, apostles who love Mary. I shall send them to you and you will go a long way with them, because together we must convert many souls and lead them to Jesus'.
That day, when I returned to my senses, I did not run away; instead, I felt a great joy within myself". Renato went to the door of the bell-tower, intending to ring the bell and let everyone know what had happened. But the door was locked and he had to content himself with shouting his happiness to the wind. He then returned to the door of the church. He did not have the courage to go in, but knelt down at the threshold, weeping with joy and praying for a good hour.
Now he no longer had any doubt: Our Lady was really appearing to him. After a few days, he decided to discuss the matter with his wife. "Rita," he said, "I have something on my mind. I must speak about it to someone, but I can't bring myself to do so..." "You have seemed disturbed to me for some days now," she replied. "If you find it hard to unburden yourself to others, at least tell your wife. We've been together now for more than twenty years".
Encouraged by these words, Renato told every-thing in detail, trying to be as objective as possible. Now and again he came out with an exclamation of joy, but immediately attempted to control himself. Rita remained thoughtful, doubting whether such extraordinary events could be credited. On the other hand, she knew that her husband was mentally well-balanced and a man of faith. She had to admit that an apparition by the Virgin Mary was possible. But supposing, instead, it was the devil deceiving him? Perturbed by such a possibility, she finally broke her silence and said to him:
"You might perhaps be mistaken; after all, such things are just not possible! You have done a lot of work in that little church; you've even found skeletons there and reburied them in the crypt. Perhaps you have seen a ghost, perhaps there's something wrong. If I were you, I'd take some holy water and bless the place". Renato accepted his wife's advice. He went with a small bottle to the monastery of the Capuchin Friars, filled it with holy water, then returned to the statue of the Madonna in St Martin's.
This is his account of what happened to him:
"I poured the holy water into a small bucket and then went and stood in front of the statue, holding the bucket. I knelt down, dipped my hand in the water, but as I was raising my arm to make the blessing, the hand holding the little bucket opened, the bucket fell to the ground, and the apparition said:
'It is I who must bless you, it is I who bless you. Do not be afraid... be prudent. The time will arrive when many will be coming here to pray. Others will not believe. Be patient, have faith and pray for them'".
This was on 2 April l985. Renato was now fully convinced that it was the Madonna who was speaking to him. From the following day, 3 April 1985, Our Lady has been giving messages to Renato, asking him to write them down so as to communicate them to the world.
[See here] story about an Infant Jesus statue of Renato Baron's that wept human tears, Italy.
Learn more about these events at Reginadellamore.org


visionsofjesuschrist.com